I'm not exactly sure when all the beds in our house became pirate ships and the carpet became shark infested water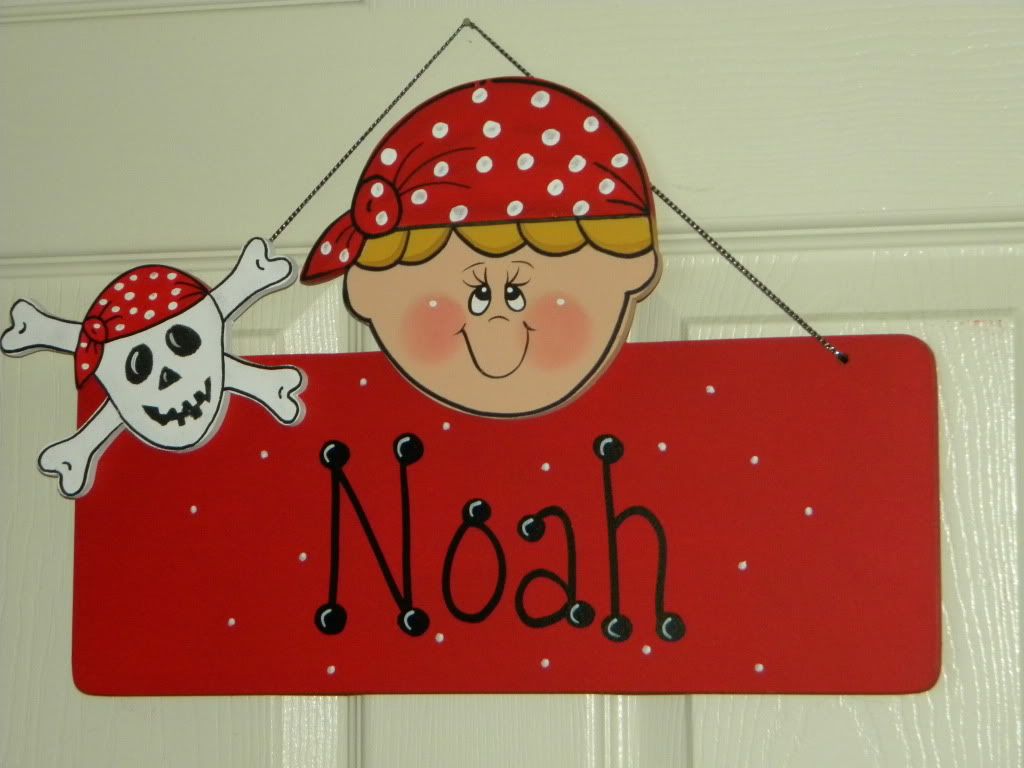 Was it two years ago…? Three? I've lost count
All I do know is that, at one point, Erik and I were sure that we were going to send Noah off to college dressed as a pirate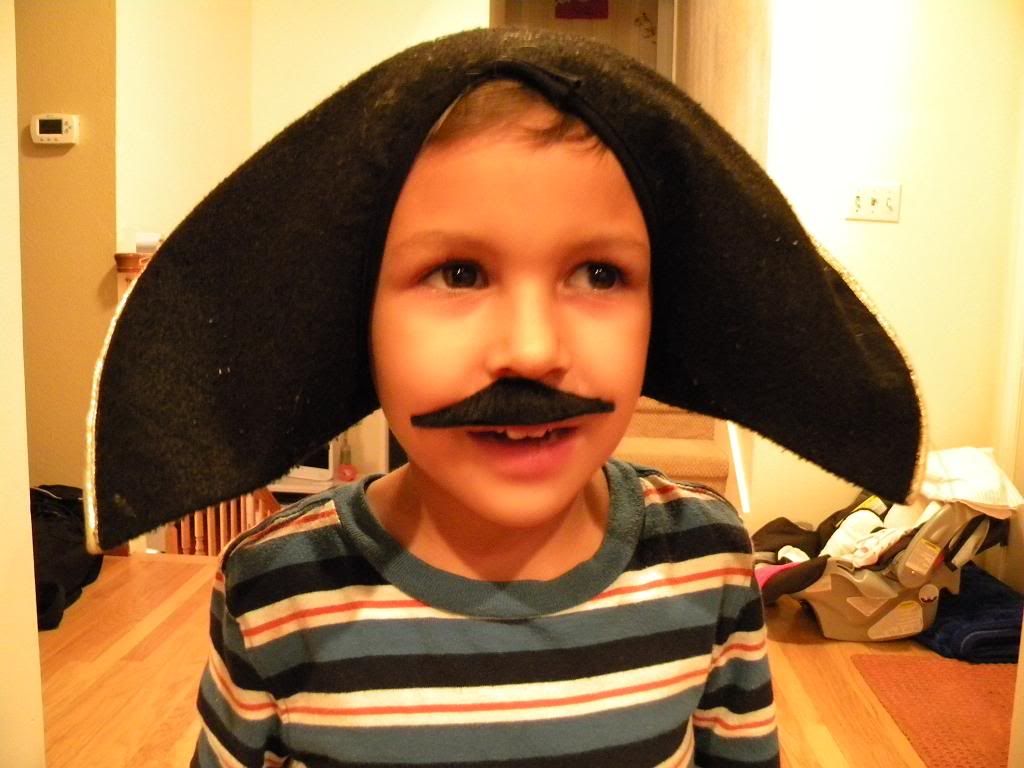 Good luck with the...er... ladies, son...
I think it all started off pretty harmlessly… Noah got a book called Pirates Don't Change Diapers
And then he started calling us bilge rats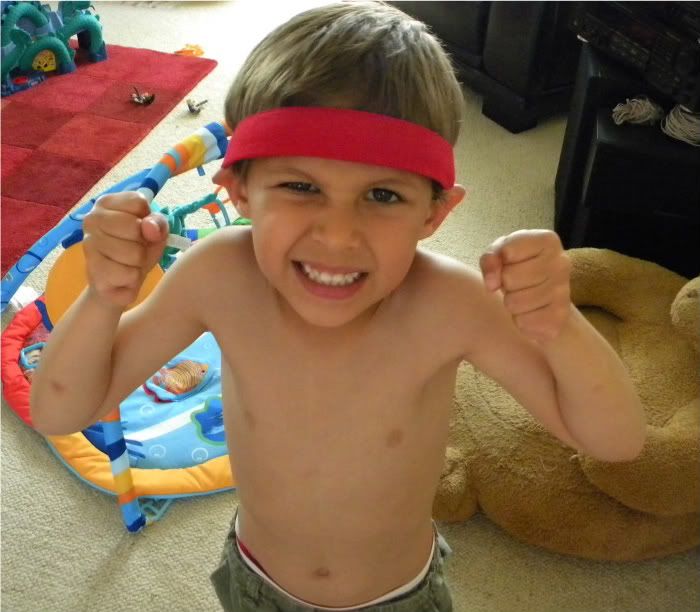 Soon after, we got Disneyland annual passports
And for awhile, every time I closed my eyes, I saw caves filled with skeletons and gold, and I heard that god-awful drone… 'Yo ho, Yo ho… '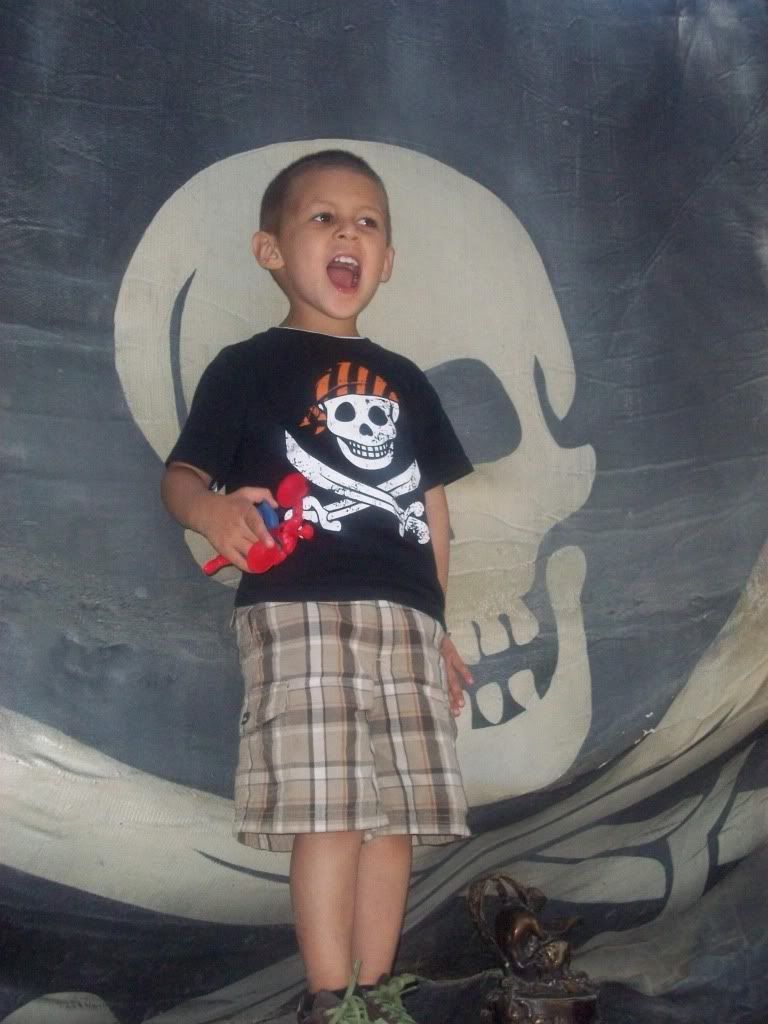 Because after riding Pirates of the Caribbean for the 1,156th time… it gets old
At first our families indulged Noah's obsession.
They thought it was cute
They took him on treasure hunts, agreed to sword fights and took him to pirate-themed festivals
We went to visit Erik's parents one weekend at the peak of Noah's obsession and made the egregious mistake of forgetting Noah's pirate captain hat.
Then the world almost ended
So they made him a hat out of a Trader Joe's bag and drew a skull and crossbone on the front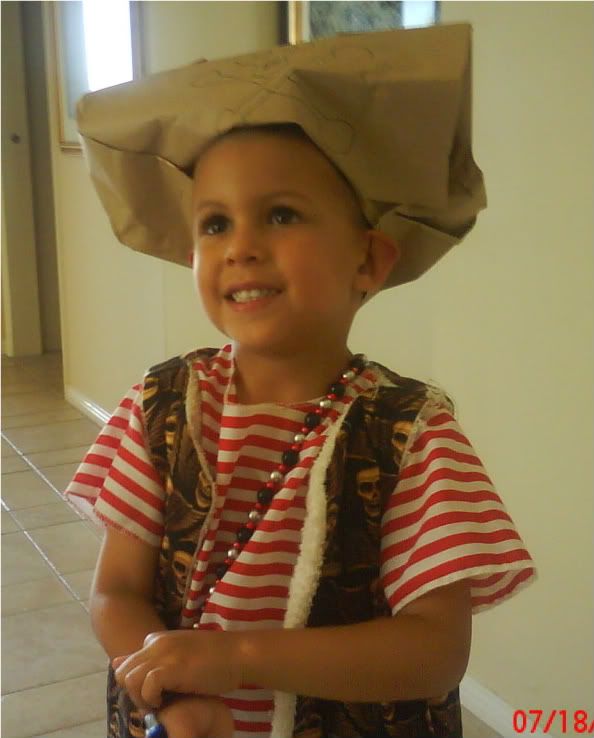 Real legit like
Then all was right with the world
Inevitably, the cute wore off
Conversations started to go a little something like this:
Grandpa: "Hey Noah, how's school going? Whatcha learning?"
Noah: "Stuff. Hey grandpa did you know Pirates drink rum?"
Grandpa: "Yeah I did. So are you still friends with that Landon fellow?'"
Noah: "I guess. Can I have $21?"
Grandpa: "What do you need $21 for?"
Noah: "Pirate bath toys"
Noah quickly amassed a weapons collection that would make Attila the Hun jealous.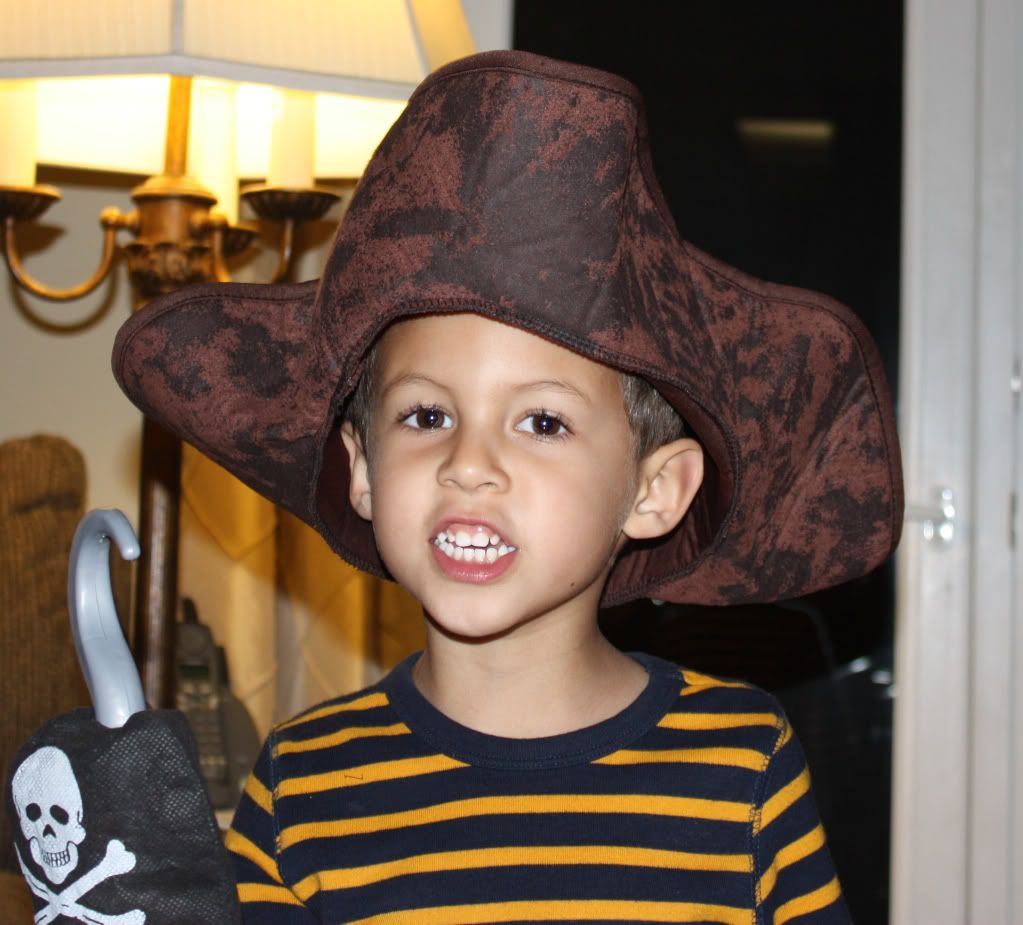 Yes.
I am the idiot parent that bought my son 123 swords. And 5 hooks. And 74 eye patches. And 1 very scary battle ax.
And our lives quickly became about avoiding Noah's favorite new pastime: sword fights
He was sneaky though. He would tell me he had a present for me, and after I closed my eyes he would stick a fluorescent sword in my outstretched hand and assume a fighting position
I fell for it every time
We knew things had gone too far when he tried to convince us to name his new sister Captain Hook
Erik tried to reason with Noah. Surely this pirate thing had gone on long enough?
Noah told Erik "Daddy. My brain tells me to be a pirate. That's my choice"
We became borderline despondent
Smiled sheepishly at restaurants when he would challenge our waiter to a sword fight with his straw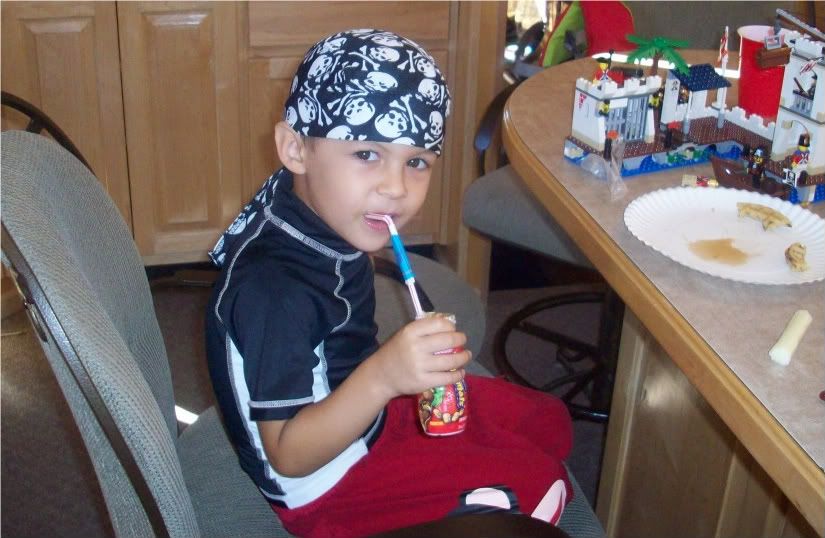 Cringed visibly when we would hear him singing sea chanteys an hour after we had put him to bed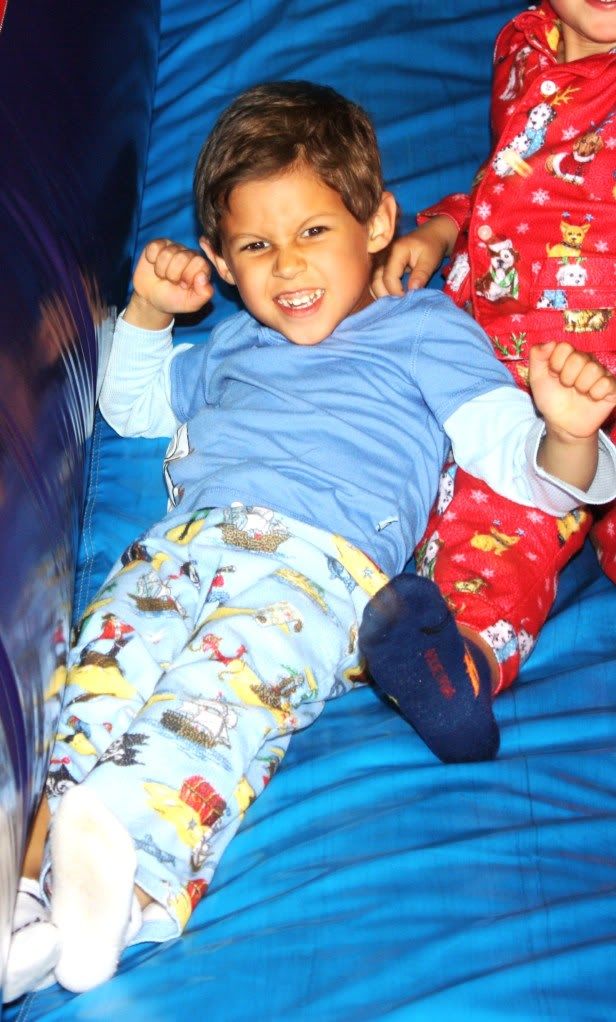 Exploited the hell out of the situation when Noah refused to get a haircut and we happened to stumble across a barber who looked like a pirate version of Santa Claus
Noah calls him Captain Claus
arrrrghhhhhh....
He only charges $7 per haircut. But I digress…
Pirate lunch boxes, clothes, shoes, blankets, CDs, movies and toys
I want this for my birthday... and this, and this, and this....
Pirate dinnerware, flags, balloons, cupcakes and bedroom door nameplates.
Pirate baseball caps
Pirate pajamas
Pirate forks
Pirate beach towels
Pirate rubber duckies
Pirate lawn chairs
And yet, after having spent a small fortune on this span of pirate paraphernalia, the sun seems to be setting on Noah's pirate fixation.
And we are tired.
And 4,358 dollars poorer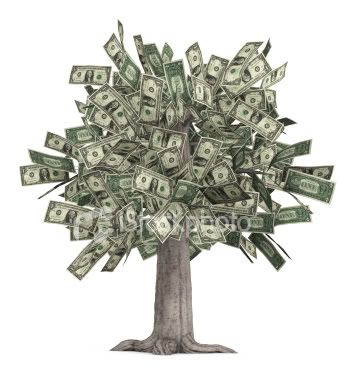 Incidentally, if anyone happens to know where I can find an original Star Wars lightsaber, complete with Luke Skywalker's signature on it, please let me know ASAP.