I'm trying something new on the ol' blog today. Let me know what you think!
I was recently given an art assignment at work. The challenge: to make something for nothing. In other words, to make something creative and artisitic using only recycled materials.
The assignment is for one of my favorite titles at the magazine publisher I work for, called GreenCraft.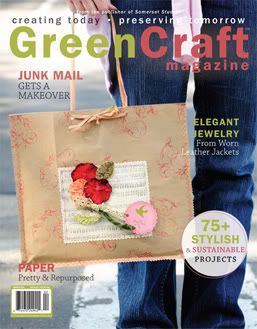 I LOVE the concept of art on the cheap, not just for its cost benefit, but also for the message it sends -- you don't have to spend a ton to be able to create something cool.
But making something for nothing... it's a much tougher task than you might think. And, to be perfectly honest, until now I've never really attempted it.
A few months ago I saw this on Pinterest.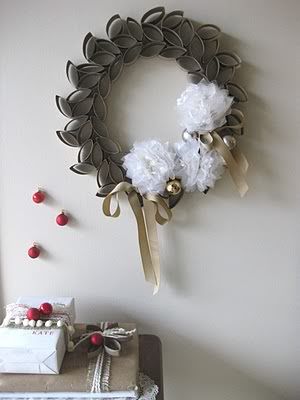 You can find the blogger who made it here
I couldn't believe it was made from toilet paper rolls. I dug around a little more on Pinterest and found these.
Which inspired me to give it a try (I had nothing to lose, except maybe a few rolls of toilet paper) and I made this.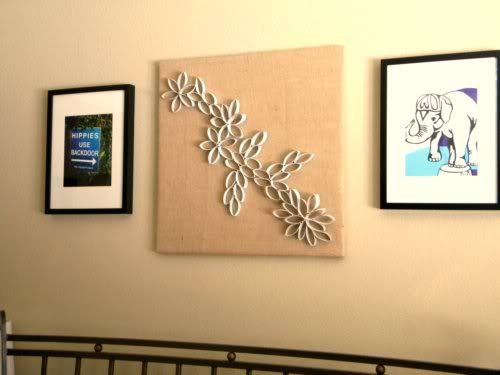 I was pretty pleased with myself when it was done. I love seeing the looks on people's faces when I tell them it's made from toilet paper rolls.
When I was given this assignment, I decided to go back to the original wreath that started it all, and create my own version.
Since the next issue of Greencraft is coming out in February, I wanted to steer clear of a Christmas-themed wreath and go for something more Spring-ish. So I decided to decorate the front of my wreath with rolled rosettes made from old T-shirts.
So here it is, my 100% recycled Springtime Wreath.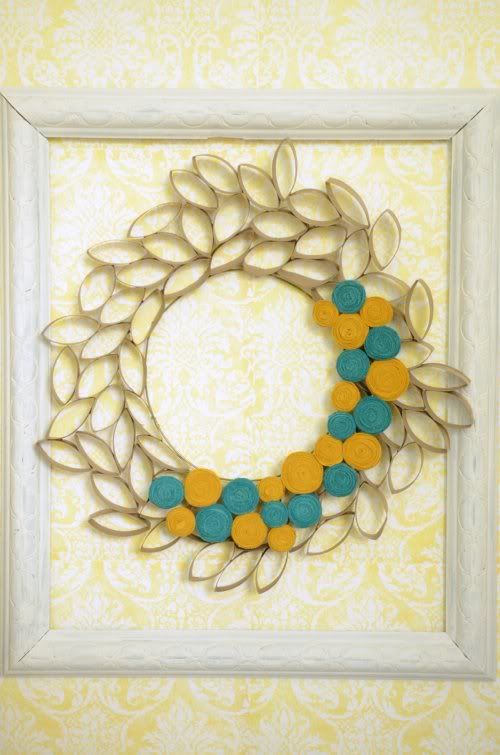 Not bad, huh?
And now I'm going to show you how to make your own :)
To start, this takes a little prep time. I've been collecting paper towel and toilet paper rolls for about two months. I collected 7 paper towel rolls and 3 toilet paper rolls in that time -- though, to be fair, we went through way more toilet paper than that, the rolls just kept getting thrown away. I've since implemented a strict no-toilet-paper-roll-throwing-away rule in my house and I think I've sufficiently frightened my family enough to follow it ;)
Flatten the rolls as much as you can and make 1-inch marks, with a ruler and a pencil (most paper towel rolls are 11 inches long, toilet paper are 4 1/2 inches). Cut the rolls into strips, using the marks as a guide.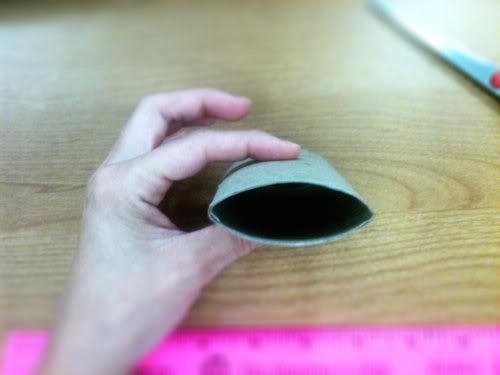 Once you've cut out all the strips, find a medium sized plate (I used a 7 1/2 inch diameter salad plate), and arrange the strips around it as shown.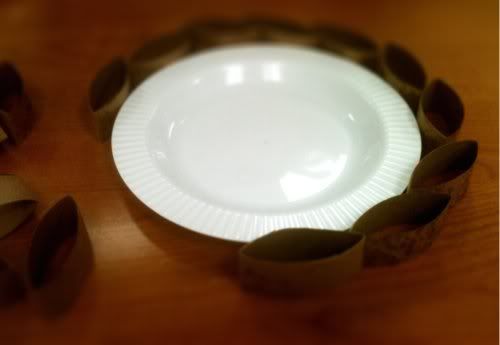 Using a hot glue gun, glue the strips together, all overlapping in the same direction.
**The next few instructions don't have pictures because, well, I forgot to take them. Sorry!**
Arrange the second layer of strips in the opposite direction. Some can layer flatter, while others stick up more. It makes it more interesting.
Glue that row to the first and, when you can, glue the strips in the second row to each other, for added stability.
For the third and last row, arrange the strips in an even more random pattern, some going in the opposite direction as the second row, some sticking up, some going in the same direction as the second row. Just eyeball the arrangement until it looks even, then glue the strips to the second row, and to each other.
Voila! You have a wreath.
For the rosette flowers, I found a great tutorial on the Mrs. Priss blog, found
here
.
She used felt for her rosettes (which itself is very cheap since sheets of felt cost about a quarter at Michaels), but I couldn't do that because I wanted the entire project to be 100% FREE. So I decided to use old t-shirts that I found in our closets, that we don't use anymore.
If you go this route be careful when picking the shirts, because not all fabric works the same. Look for a thicker cotton fabric with a little stretch (no tissue cotton tees, and no super stretchy ones either). It doesn't have to be a super nice material though... remember that turtleneck your dad wore to your 7th grade father-daughter dance that made you want to crawl in a hole and die from embarrassment? Use that one.
Once you have your fabric, cut the arms off. And the neck, if it's a turtleneck. (Geez, this is getting medieval...)
ANYway, once you're left with just the shell, cut both side seams, leaving behind two large pieces of material. Cut small squares from that material.
Next, cut the corners off the squares and trim it into a circle shape.
Starting anywhere on the circle, start cutting in a swirl pattern. Think: your grandma peeling an apple with a knife.
Tip:
To make this step go faster, double layer your fabric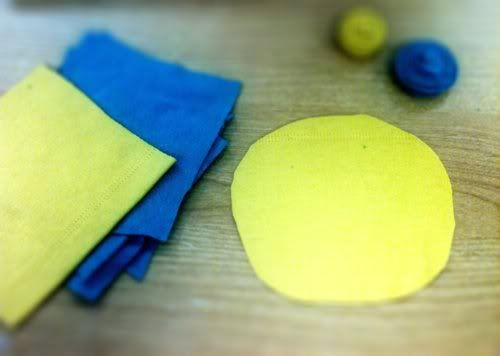 Cut the entire circle then, starting with the inner end of the coil, start rolling it.
Tip:
Hold the roll between your fingers firmly, because it will easily unravel.
Please don't judge me and my scary man-claw
When you get to the end dab a drop of hot glue on the fabric and glue down the tail, leaving a little on the end to tuck under the rosette.
Cut a circle from your leftover fabric that is smaller than the rosette. Glue the circle to the bottom of the rosette, to keep it from unraveling from the bottom.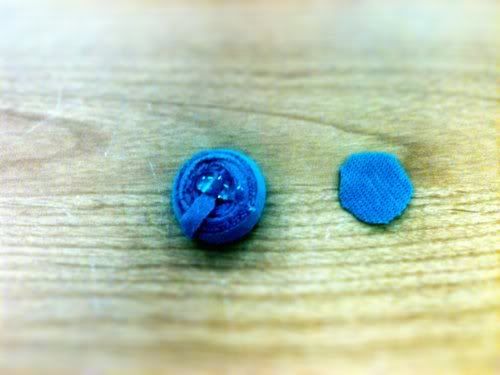 Repeat the steps for the rosette as many times as you want.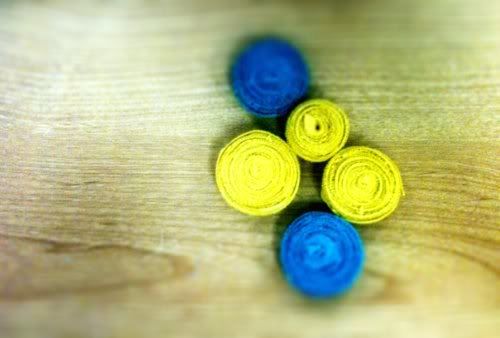 When you have a pile, start arranging them on the wreath in a design that you think is pretty, then use your glue gun to start glueing.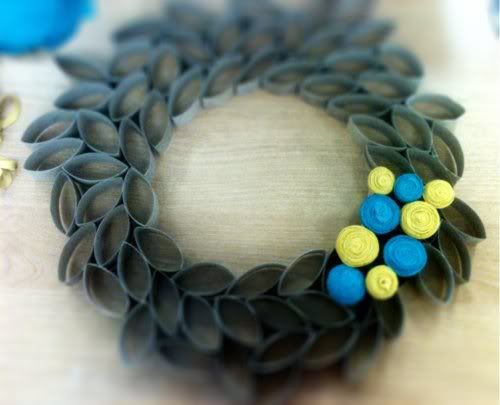 Tip:
Glueing is tricky, since the surface area is so thin. When you can, glue the rosettes to each other, as well as to the "leaves" on the wreath. And, after glueing a few, flip the wreath over and put a drop of glue on every rosette, where they touch the "leaves" of the wreath. This'll make it more stable.
If you're so inclined, you can also punch a hole in one of the top leaves, weave a thick piece of T-shirt fabric scrap through it, tie it off, and use that to hang the wreath on your door.
Not bad for zero dollars right?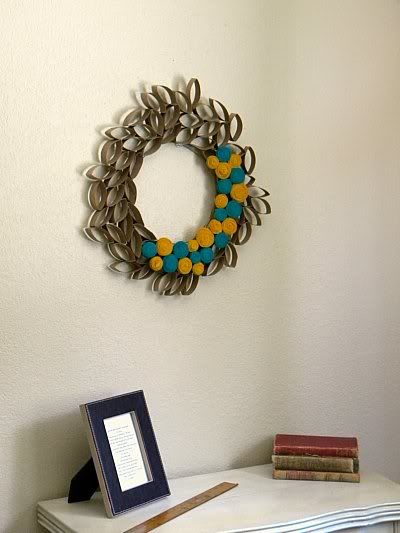 If you've made something cool out of recycled material lately, please feel free to contact me if you'd like to submit it for consideration for GreenCraft. My email address is arangno@stampington.com
Thanks for reading!