You guys.
This weekend I had the pleasure of meeting my beautiful friend's beautiful baby and I am in L.O.V.E.
This sweet, sweet baby pulled out all the stops for me. She made those breathy little noises that only newborns make. She puckered her perfect little lips and rooted around for food. She stretched her arms like she'd been asleep for a thousand years.
And then.
She opened her eyes and looked right at me.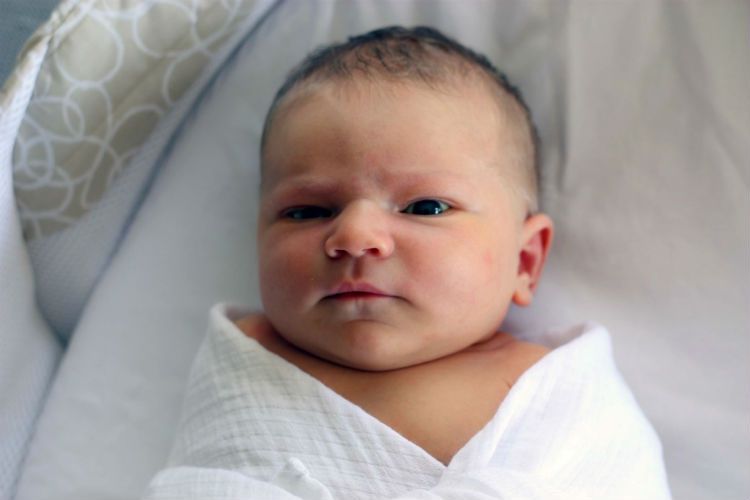 She said
"And whooooo. Are yooouuuu?"
She said it with her eyes, and I heard her with my heart.
She's perfect.
Good job, friend!
Moments like these feel like a time machine that takes me back to those first few days of motherhood, and sometimes I find it hard to walk away from that. The details are all different, of course, but the feelings are the same -- the amazement, and the hope. I think the hope is the most addicting part for me.
Because new babies are so full of hope that sometimes it seems like it can't even fit in the room. You can stare at a new baby and think "This baby could be
anything
" and the feeling that comes with that is so powerful and big.
In fact, the drunkest I've ever been was on that feeling alone.
Don't get me wrong -- I still think the same thing when I stare at my own two big kids, but before long ... well, before long they become their own people with their own personalities, and the visions you conjured in your head are replaced with the reality of what's in front of you.
It's still magical, they're still beautiful, and your kids ... your kids will surprise you every single day in the best ways. At least, mine do. But with every single
minute, hour, day
that goes by, my kids need me less and less and that's the toughest part of parenting, I think.
They don't need me to dream their dreams for them, and they don't need me to imagine their futures, because they are on their own path, and sometimes the best thing I can do is get out of the way.
That's hard.
The truth is I never want to go back to the baby years, because, hello? Sleeping in past 8 a.m. on a Saturday is
delicious
, people.
It's delicious.
But sometimes I miss those years like hell.
Especially when my son looks at me like this.
He is saying
"Stop embarrassing me, mom ... "
He's saying it with his eyes, and I am hearing him with my heart.
And I want to tell him there was a time when I was everything he needed and wanted -- a time when I would stare and stare at him, and
hope, hope, hope,
that things would never change. But he wouldn't hear me if I said this to him now, so instead I say nothing.
sigh...
*****
Housekeeping!
So. You probably have not noticed this fancy new button on my sidebar that says
"Follow me on Facebook"
but it's there for a reason.
I normally post the link for new blog posts on my personal Facebook page but starting in the next few weeks, I'm going to only be posting it on my
blog's Facebook page
.
I am hoping to create a little separation between the two, so as not to be blowing up the news feeds of every single person on my Facebook friend's list.
Plus, I've been told this is what all the cool blogs do. So, yeah.
Follow me if you'd like, and I promise I won't sell your info to big brother, or anything.
Unless the price is right.
Just kidding, I won't do that. Swears.
*****
O-kay!
That's it for today.
Except for this.
Do this. Do it today.
Because, you guys ... after two weeks of political carnage, and mudslinging, and
biting my tongue so hard I'm surprised I have a tongue left
, I think, right now, we just need to make the world happier.
Happy Monday to all!