Here's a little-known fact for all you non-chicken farmers: Did you know that one of the best things you can feed chickens is their own eggs?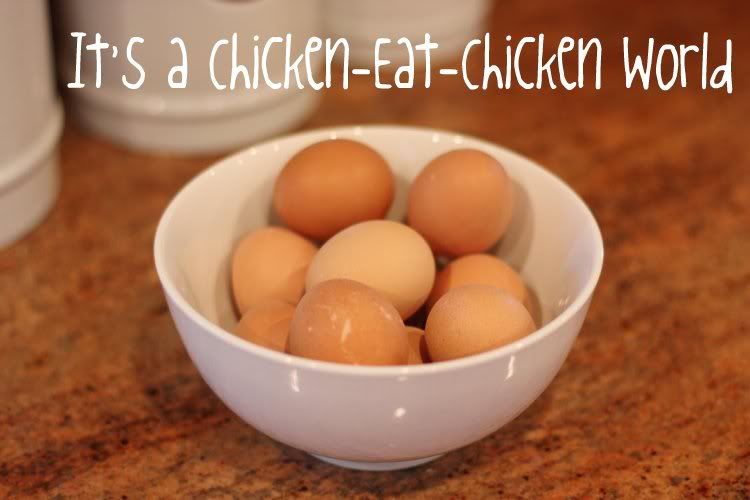 I find it just as disturbing as you do.
But my chickens practically trip over themselves whenever I bring them a pie-plate filled with chopped boiled egg.
Have you ever seen chickens fighting over the last piece of egg yolk? It's funny.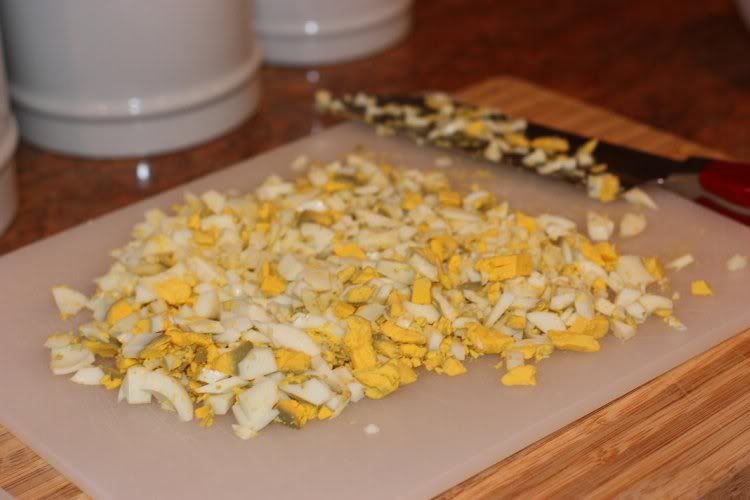 Those little cannibals...
Just in case you didn't see the
birthmark
dirt
pen
bruise
ashes on people's foreheads yesterday, let me be the one to break the news to you.
It's Lent.
Now I may be just about the worst Catholic on this side of the Orange Curtain, but I never miss Ash Wednesday.
Every year, 46 days before Easter, I shake Noah awake at 6 a.m., and drag him to the nearest Catholic church.
I whisper in his ear throughout the short service, promising that if he stands up straight and doesn't make faces at the priest, I will take him for pancakes after it's over.
Let me be clear: we are not good Catholics. We rarely, if ever, attend church.
But I was raised by devout Catholics, and I went to Catholic school for most of my life (I'm still recovering BTW)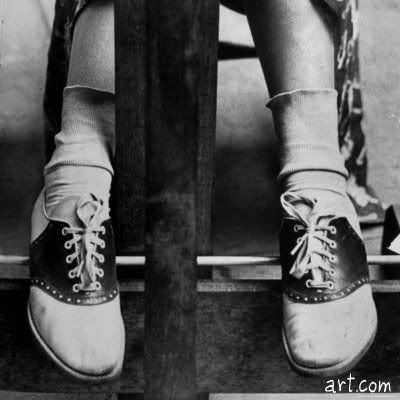 I had always assumed that I wouldn't raise my kids Catholic, that I would let them explore religion on their own whenever they were ready.
But when I was about 11 months pregnant with Noah, I put in a rare appearance at church with my parents one Sunday, and halfway through mass the doors opened and a line of little boys and girls marched up the aisle to receive their First Holy Communion.
As I watched the kids, beaming in their suits and white dresses -- pride written all over their cute little faces -- a funny thing happened: I desperately craved that for the baby growing inside of me.
I feel very lucky to be married to a man who, despite his reservations, allows me to expose our kids to this part of my history.
This does NOT mean, however, that my kids won't have a choice. I value and respect ALL religion (or lack of religion) and my kids will be free to choose their path as they grow up.
For now, though, we have these traditions -- my boy and I -- and I would be lying if I said it didn't feel good to see him doing the same things I grew up doing.
I gave up cussing for Lent. Noah gave up cookies.
It's going to be a long 46 days....
I took Noah to get a haircut this past weekend.
I have a love/hate relationship with Noah's hair.
Because, for starters, it's beautiful. It's this perfect golden color that almost matches his golden skin. It has a slight curl that at just the right length, gives him a shaggy, I-don't-even-have-to-try 'do.
But combing that mop every morning was starting to give me ulcers. Because it goes a little something like this:
Noah: "OWWWWW!!!! You're HURTING ME!!"
Me: "Well, you have knots and tangles Noah ... I'm trying my best!"
Noah: "No, you're not. You're doing it on PURPOSE. You WANT to hurt me."
And then my head explodes.
So I took him to a barber who, despite a serious language barrier, understood the words "faux-hawk"
Unexpected result of getting rid of all of Noah's hair? He grew, like, ten feet in a matter of minutes.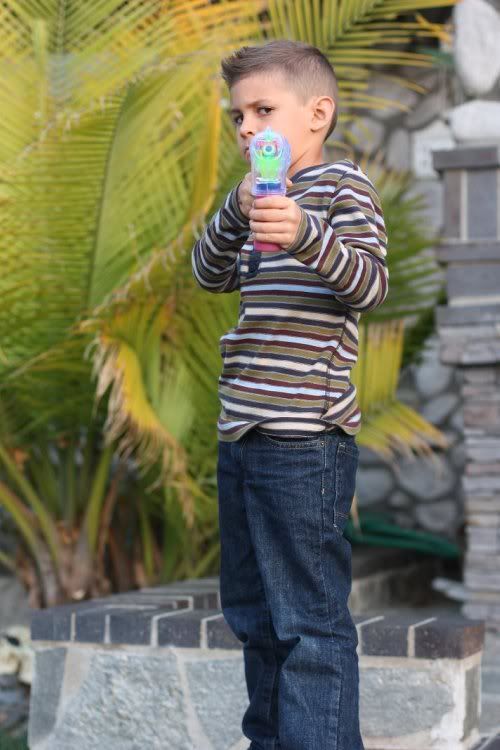 He's shooting a bubble gun like it's an M16 rifle ... we don't even have cable television. Cue helpless resignation
It's just a reminder that time is passing as quickly as ever, despite my efforts to freeze it and enjoy the best moments
just a little bit longer...
Life is inordinately good right now, and even though it's still February we are starting to catch glimpses of what's to come, in the way of longer days, warmer nights, and more time with the people we love most.
There is much to look forward to right now.
Happy Thursday to all!
Conversation of the Day:
Noah: "Why is that man closing his eyes and kneeling?"
Me: "He's praying. He's thanking God for all the good things in his life"
Noah: "When I pray, I thank God for my family, my cool stuff, and me."
Me: "When I pray, I thank God for you too..."